PRODUCTION FACILITIES
Rotair manufactures highly complex and critical assemblies such as the UH60 Stabilator Amplifier with over 600 components; the Main Rotor Spindle as well as the Bifilar which require critical machining and specialized tools and assembly techniques. Using a diverse base of highly qualified vendors and our years of experience in managing large projects, we are capable of tracking thousands of components through production to their final assembly for timely delivery of a high quality product.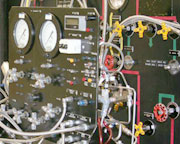 HYDRAULIC TEST FACILITIES
Rotair maintains a high-capacity hydraulic test stand housed in a Class 100,000 Clean Room meeting the requirements of FED-STD-209 and ISO 14644-1, -2. This facility is capable of testing a wide variety of hydraulic components, for example, landing gear, dampeners, servos, aircraft hydraulic control systems, and much more. Rotair has a variable drive (vari-drive) test cell capable of simulating the power output of the accessory gear box modules for several helicopters.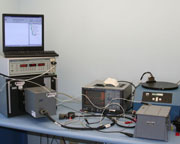 AVIONICS
Rotair has a state-of-the-art avionics facility meeting requirements of MIL-STD-1695 and includes conductive flooring, and benches with separate ESD (Electrostatic Discharge) work stations. The lab also utilizes separate air handlers to control temperature and humidity. A specialized software configurable test station provides broad capabilities for testing Blackhawk avionics.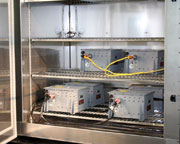 ENVIRONMENTAL TESTING
Rotair operates a computer-controlled environmental chamber capable of cycling through a temperature range of -70 to +180 degrees C. Environmental testing can take place while necessary aircraft voltages, frequencies, and currents are supplied to the components under test.
Meets NAVMAT P-9492 standards.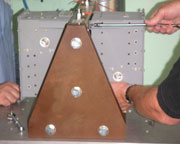 VIBRATION TEST SYSTEM
Rotair has an Unholtz – Dickie Vibration Platform capable of a broad spectrum of vibration frequency domains under computerized control including Random, Sine, Shock and their various combinations.
Meets NAVMAT P-9492 standards.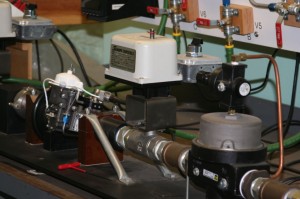 HIGH CAPACITY PNEUDRAULICS
Rotair utilizes a high-pressure, high-air flow test cell in testing particular items such as start control valves, and other rotary wing aircraft equipment requiring high air-flow functional testing.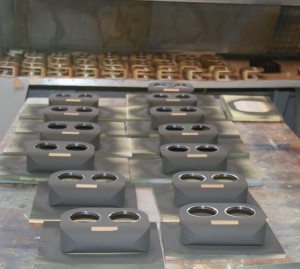 AIRCRAFT COMPONENT PAINTING AND STRIPPING
We have the capabilities to apply paints and other organic finishes to the most exacting aerospace standards, such as MIL-PRF-23377 and MIL-DTL-53039.
PACKING AND SHIPPING
Our packing and shipment department understands and meets the strictest of government and ISO product preservation standards. We'll ensure your product arrives at its destination in perfect condition, ready for the mission.